Welcome to Towcester McTimoney Chiropractic & Health- a small friendly chiropractic clinic which specialises in the McTimoney technique, based within Wakefield Country Courtyard.
The clinic was founded by Natalie Beckett & has now expanded into this new location. After completing a BSc Sport Science degree at Portsmouth University in 2004 Natalie spent 8 years working as a massage therapist-offering her clients deep tissue & sports massage. She continued working part time, whilst studying for a Masters of Chiropractic at Abingdon chiropractic college.
Since graduating Natalie has helped many people with musculoskeletal disorders including:
| Back pain
| Neck pain
| Leg pain (some people call this sciatica)
| Headaches
| Sporting injuries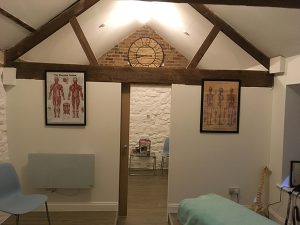 McTimoney Chiropractic is one of the many different styles of chiropractic available, but its light adjustments are the one characteristic that patients often comment upon. It is these light adjustments that make it suitable for all ages, from the old to the very young.
Clinic Opening times:
Tuesday 8-5pm
Wednesday 11-8pm
Thursday 3-8pm
Friday 8-2pm
Contact the clinic on: (01327) 810 184
Or
Out of hours on: 07932 249 381
E-mail: nataliebeckett@towcesterchiropractic.uk
Visit our website: www.towcesterchiropractic.uk
Find us on Facebook: /towcesterchiropractic.uk
Wakefield Courtyard Shops, Potterspury
Milton Keynes – Towcester – Buckingham – Northampton – Newport Pagnell – Bletchley
ARTea Room – Grafton Spa & Wellness – Just 4 You Beauty – Towcester McTimoney Chiropractic & Health – Vitreus Art